Om * buds * man: defined as a person who hears and attempts to resolve complaints and problems, as between students and a university.
The University is a very large and complex organization. As in any organization of this size and complexity, conflict is inevitable. As the University Ombudsman, students can visit me to talk about problems and disputes they are having with the University. I work individually with students (and sometimes with others across campus) to help them clarify issues and resolve conflicts. I also help the University identify systems, policies and procedures that can be improved. I am hoping this blog can be an opportunity to expand the conversation on campus about conflict and conflict management. 
Too often we only think about conflict when we are neck deep in one, when the way out seems unimaginable. And yet I do believe that we can all benefit from more intentional conversation about conflict. I hope you will join me in thinking and talking about conflict here at the University, and the ways we can use conflict to make this an even better place. I'll be sharing occasional thoughts about the practice of conflict management, the Ombuds role in that process, and specific issues that are on my mind. I invite you to join in that conversation.
Tom Lehker, University Ombudsman
---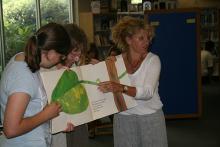 Author Chimamanda Adichie talks about the importance of stories, and the danger of a single story.